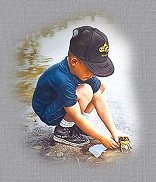 I gave birth to Adam in 1983. He is my first child and only son. His father was attending Auburn University when I became pregnant. He came back to Birmingham until after Adam was born and then returned to college. After he graduated he took a job where he was on the road all the time. I felt like I was raising Adam on my own. He and I went everywhere together. He and I were together almost every waking moment of the first three years of his life. Needless to say, we became very close.


He was the only grandchild on both sides until his sister was born in 1986. He was very spoiled but he was never rotten. Adam was a very happy child and so easy to take care of. He always had a laid back demeanor and out going personality. I can't remember him ever giving me a bit of grief. He has always been sensitve and loving. The thing I am most proud of about Adam is his loyalty to family and friends and the way he cares about the needs and rights of others.




Adam has always been a great big brother. He has watched after his sister since the day she was born. I remember when she was a newborn and he was not yet three that he would always check and make sure she was ok. One morning I was running late and had to get in the shower. I laid my newborn baby in the middle of my bed and told Adam to sit right next to her and watch her. She wasn't able to turn over but I still took a very quick shower with the door open. When I came out of the shower, Adam had gone all over the house and collected all the pillows. He lined them around his little sister. When I asked him what he was doing he said "I just didn't want her to roll off and get hurt". He is still protective of her to this very day.



I sure don't want to make it sound like I have the perfect son. We did go through some rough times during those teen years. There were times when I truly worried about him and his future. I guess a lot of moms go through that with their teenagers. Luckily those days didn't last to long. Adam is finished with high school and is working full time for his uncle as a painter. He plans to join the Coast Guard Reserves this summer and will be attending college this fall. I am very proud of him